Yaduveer Krishnadatta Chamaraja Wadiyar is the 27th and current Custodian of the Royal House of Mysore. He is the only son of H.H. Rajamatha Dr. Pramoda Devi Wadiyar of the Bettada Kote Ursu Family, and H.H. (Late) Srikantadatta Narasimharaja Wadiyar and grandson of H.H. Dr. Jayachamarajendra Wadiyar Bahadur and H.H. Tripurasundarammani Avaru.
    His primary schooling was in Vidya Sagar, Bangalore and his I.C.S.E Certificate at Vidya Niketan School, Bangalore. He completed I.B. Diploma program at Canadian International School, Bangalore and then went on to graduate at the University of Massachusetts, Amherst U.S.A.
    Y.K.C. Wadiyar received his Degree in Bachelor of Arts, with a double major in Economics and English in May 2015.
    As a scion of the Royal House of Mysore, he continues to uphold the rich tradition and culture of the Wadiyars of Mysore, thereby continuing to preserve the culture of the Deccan over their 600 year presence. Additionally, Y.K.C. Wadiyar continues to align himself to the causes of sustainable environment and betterment of education, motivated by the great work and contribution of his ancestors.
    He is married to Princess Trishikha Kumari Wadiyar of Dungarpur, Rajasthan.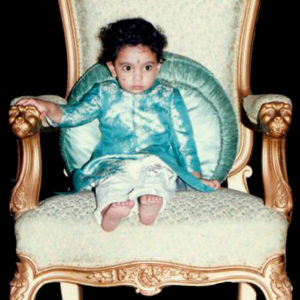 Birth ​&​ ​Biological ​ ​Heritage
     Yaduveer Krishnadatta Chamaraja Wadiyar was born as 'Yaduveer Gopal Raj Urs' to Smt. Tripurasundari Devi, Daughter of Princess Gayatri Devi and Sardar K.B. Ramachandra Raj Urs, and Sri Swarup Anand Gopal Raj Urs, from the 'Bettada Kote' Ursu family on the 24th of March, 1992.
     Sri. Y.K.C. Wadiyar's biological heritage from the paternal side; i.e., The 'Bettada Kote' [Hill Fort] family originated from a small fort (now in ruins) atop the Gopal Swamy Hills in Gundlupet Taluk. Their household Deity continues to be 'Himavad Gopal Swamy' whose temple, also atop the Gopal Swamy Hill, still draws thousands of visitors. Incidentally H.H. Chamaraja Wadiyar X, adopted by H.H. Krishnaraja Wadiyar III, was also from the same family. Prince Subramanya Raj Urs, Sri. Y.K.C. Wadiyar's paternal ancestor, was H.H. Chamaraja Wadiyar's elder brother. On the maternal side, Sri. Y.K.C. Wadiyar's grandmother Princess Gayatri Devi was the first daughter of H.H. Dr. Jayachamarajendra Wadiyar Bahadur, Maharaja of Mysore. She was, like her father, a connoisseur of music and beloved by all. Her husband, Sardar K.B. Ramachandra Raj Urs is the adopted son of Rajkumari Leelavathi, daughter of Maharajkumari Jayalakshammani Avaru (Sister of H.H. Nalvadi Krishnaraja Wadiyar) and Sardar Sir M. Kanthraj Urs, Dewan of Mysore.
Education
    Sri. Y.K.C. Wadiyar's educational focus has always been environment, sustainable development, and the use of education as a tool for bettering our world. At college he enjoyed econometrics and involved himself in studies concerning environmental risk, cost-benefit analysis, and also analysis of Education related issues.
Preliminary​ ​Education
Vidya ​ ​Sagar, ​ ​Bangalore
Completed ​ ​I.C.S.E ​ ​Certificate, ​ ​10 ​th​​ ​Grade ​ ​(March, ​ ​2008)
Vidya ​ ​Niketan ​ ​School, ​ ​Bangalore
Completed ​ ​I.B. ​ ​Diploma, ​ ​12 ​th​ ​ ​Grade ​ ​(May, ​ ​2010)
Canadian ​ ​International ​ ​School, ​ ​Bangalore
B.A. ​ ​Degree ​ ​in ​ ​Economics​ ​(May, ​ ​2015)
University of ​ ​Massachusetts, ​ ​Amherst U.S.A.
Primary Major​ ​in ​ ​Economics
Secondary Major​ ​English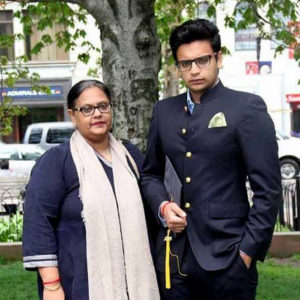 Adoption and Anointment
     In the midst of his last semester at University in U.S.A, Y.K.C. Wadiyar came back to Mysore and was formally adopted by H.H. Rajamata Dr. Pramoda Devi Wadiyar, wife of late H.H. Srikantadatta Narasimharaja Wadiyar, at the Mysore Palace on the 23rd of February, 2015. As a consequence of adoption he was renamed Yaduveer Krishnadatta Chamaraja Wadiyar.
     After the adoption ceremony, Y.K.C. Wadiyar returned to the United States to complete his degree. Subsequently he was anointed as the 27th Custodian of the Wadiyars of Mysore on the 28th of May, 2015, and thus formally took up the responsibility.
Present Roles & Responsibilities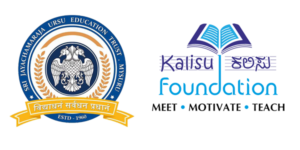 President/Trustee: ​ ​Sri ​ ​Jayachamarajendra ​ ​Ursu ​ ​Education ​ ​Trust, Mysore
Ambassador​ ​& ​ ​Advisory​ ​Board ​ ​Member: ​ ​Kalisu ​ ​Foundation, ​ ​Mysore
Trustee: ​ ​Sri ​ ​Jayachamrajendra ​ ​Art ​ ​Gallery, Mysore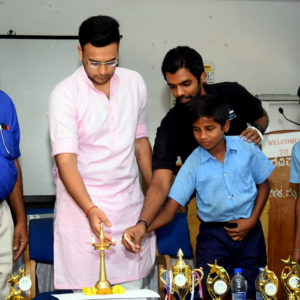 Public life
     Essentially, The Custodian of the Royal House of Mysore has multiple personas to play, many of which, are within the public spectrum. The many spiritual and religious rites, cultural programs, and the ancient tradition of the household are part of the public milieu Sri Y.K.C. Wadiyar enjoys, and is duty bound, to take part in.
    Apart from the tradition itself, the immense contribution by his ancestors, for the betterment of society through the means of education, social reform, economic advancement, keen patronising of the arts, and sports, influences him to align himself with these causes. Furthermore, he is of the definite opinion, that the ancient bond between the people of Karnataka and the Wadiyars should continue through the means of the Persona of the Custodian being socially aware and available.
     As such he attends a variety of programs, ranging from the spiritual to educational, arts to sports, and many other fields of interest. Being extremely interested in sustainability and as an environmentally conscious person himself, he gives importance and priority to causes that benefit and create awareness about saving our environment. He is an active participant in the Swachh Bharat campaign by the central government. He was the Ambassador for the Swachh Bharat campaign in Mysore during the two years that Mysore won the designation as the cleanest city in India. He serves as the Ambassador to the Kalisu Foundation, that strives to provide better means of education within the Old Mysore region, currently the Foundation has an impact on over 5800 students. Also, in collaboration with The Kalisu foundation, Sri. Y.K.C. Wadiyar takes part in the 'Learn from Maharaja' program in various schools in and around the Greater Mysore area.
Personal Life
     Sri. Y.K.C. Wadiyar is married to Trishika Kumari Wadiyar, who hails from the Dungarpur Royal Family in Rajasthan. Trishikha studied in Bangalore, completing her 10th grade I.C.S.E. at Baldwins Girls School, her Bachelor Degree in Business Studies at Jyoti Nivas College, Bangalore and then her Masters in Arts, Economics at Christ University, Bangalore.
Hobbies
     Y.K.C. Wadiyar enjoys playing the Guitar. He was initiated to playing of the instrument in his mid-teens. He enjoys playing the blues, simple jazz, 60's and 70's rock, and alternative genres of music. He also has taken up, and very much enjoys, the Saraswati Veena, which also helped further his knowledge of Carnatic Music, of which the House of Wadiyars have been keen patrons. Apart from enjoying playing the above stringed instruments, he also listens to a variety of music. His musical taste ranges a myriad of genres.
     He also spends a lot of time reading particularly on the subject of history; early on, he enjoyed reading on the many empires that the Subcontinent of India, in particular that of the Deccan. Later on he developed a taste for philosophy and looks to explore our rich Indian philosophy, inspired by his grandfather H.H. Dr. Jayachamarajendra Wadiyar, who was an extremely accomplished philosopher, authoring many a book on the subject. He continues to enjoy subjects of Philosophy and History, along with a casual interest in fantasy, spy novels, and comic books.
     He also enjoys playing tennis, has interest in horse racing, and is an ardent follower of the NBA league, something that grew on him during his time in the United States of America.